Get your home project done with affordable financing.
WS Design & Build Inc. is pleased to offer financing through federally insured, federal and state chartered banks that provide consumer loans for your next project. We have partnered with Hearth Financing for fast, easy, and transparent loans.
Hearth helps you find monthly payments for your project.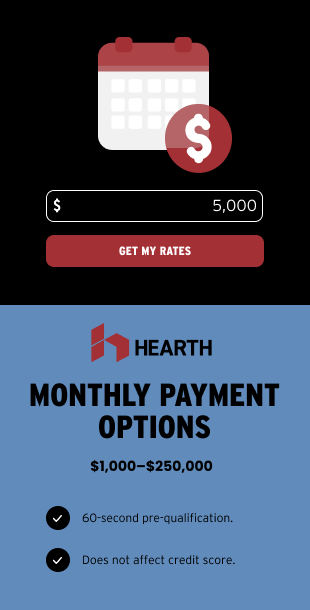 Rates in under 2 minutes
Review your rates from over a dozen lenders through Hearth's quick and secure application without affecting your credit score.
Get your money fast
Loans typically fund in 1-5 business days. If approved, Hearth's lending partners can deposit cash into your account as soon as 24 hours.
Easy monthly payments
No surprises. Personal loans through Hearth's lending partners have fixed rates and terms. You'll know your monthly payment upfront.
No prepayment penalties
There are no fees for paying off your loan sooner, saving you time and money.

---
Why should I finance my project?
Depending on the size of your project, the materials needed, and the completion timeline, your investment could be substatial. However, improving your home will add value and enjoyment without the burden of a large up-front investment.
Deferred Interest for up to 18 months.
When you apply for a construction loan with WS Design & Build, your loan typically includes a 6 to 18-month "Promotional Period". During your promotional period, your interest is billed to your loan, but you are not required to pay this interest.
The best part … if you repay your entire loan before the promotional period ends, your interest is waived!
In Good Times or Bad Times, Keep Money in Your Pocket.
You never know when you might need some extra money, and putting your dreams and plans of hold used to be the only way. With flexible financing options, you now have the freedom to build that custom kitchen you've been dreaming of, or installing that rainfall shower in your new custom bathroom. The possibilities are limited only by your imagination!
Call us today at (570) 872-9915 or fill out our contact form to discuss the financing options that are right for your next big home improvement project.